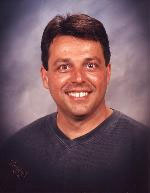 " . . . [We] must feel pride in the legacy left by someone so special.
That spirit will continue to shine, lighting the way for others,
leaving all of us an example to follow and
a remarkable life to remember
with grateful hearts."
This quotation has intense meaning for those of us who were fortunate to know and work with Marcel Turcotte. His life was a gift. We at Legacy are grateful to be among the recipients.
Marcel's career began when he was a very young man. As an eager young laborer, he gained hands-on experience in residential, retail, and commercial construction. He absorbed knowledge and gained skills—framing, hanging, taping, texturing—and mastered all aspects of drywall construction. He started his first business before he turned 20, and through many trials and tribulations, he became a true success and a true inspiration to us all.
Marcel formed Wall-Tech Systems, Inc. in 1989. First a drywall company, Wall-Tech later diversified to provide a wide range of quality construction services, eventually producing $20 million in annual sales. A hands-on Manager, Marcel oversaw all of Wall-Tech's operations including sales, estimating, project management, and office management. He worked directly with Wall-Tech's clients, project managers, office staff, construction workers, and subcontractors to ensure that all projects ran smoothly, efficiently, and cost-effectively. At Legacy, we strive to follow his fine example, and we hope to make him proud.
Beyond that, we remember Marcel as being truly remarkable and special. His phone voice, interpersonal skills, sense of humor, natural management abilities, and self-sacrificing dedication will remain unmatched as his spirit continues to shine.
Marcel and his young family
And we are grateful to hear a bit of his laughter, to catch a glimpse of his eyes, and to feel the warmth of his presence when we see his two precious little girls.